Video Champions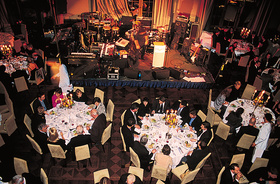 Yesterday: The (still) small DVD night in the Lenbach Palace's Gobelin ballroom in Munich
The Entertainment Night with the Video Champion Awards is an unmissable event within the industry. In November 2012, G+J Entertainment Media will be handing out the Video Champions awards for the best releases of the year on DVD and Blu-ray for the thirteenth time. As in previous years, the award does not focus on sales figures, but rather on the production, quality, packaging and marketing of the products.
The jury, consisting of editors and film experts from the trade journals VideoMarkt and Blickpunkt:Film, decided upon eight programme categories in 2011. In detail these were: German Film, International Film, Family Entertainment, Music, TV, Special Interest, Boxset and Special Edition.
Europe's most prestigious home entertainment award
Today: The large Entertainment Night as a glamorous gala evening in the Westin Grand Hotel
Whilst the award is still young, it nevertheless has a successful trackrecord over many years. In recent years the Video Champion has established itself as the most important award for the home entertainment sector in the German-speaking countries and as the industry's most prestigious awards ceremony in Europe.
However, technological innovation keeps moving forward. The Blu-ray disc or digital distribution are gaining in importance. Nevertheless, everything is and remains video. At the Video Champion all kinds of offerings find their niche and the prestigious award that they deserve!
Since 2000, the jury prize has been awarded to home entertainment programme and service providers whose products have appeared on the German-speaking market within the previous twelve months. Outstanding design and special technical achievements are judged. Furthermore industry personalities, businesses and stars are honoured at the Video Night for their achievements within the home entertainment market.